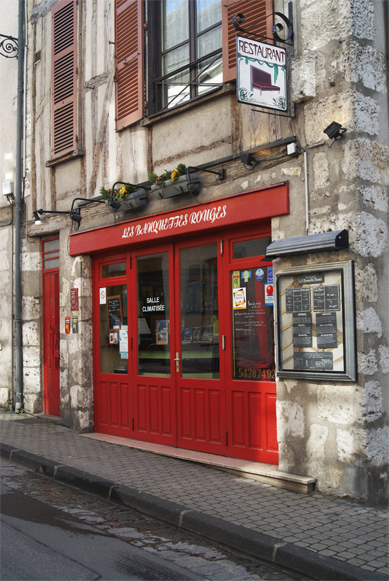 Located in Blois old town in a semi pedestrian street, near the castle and the St Nicolas church, the team of the restaurant "Les Banquettes Rouges" welcomes you in a relaxing atmosphere and pleasant background music.
Our menu is regulary updated, you will taste french cuisine based on traditional products but inventive at the same time.
Nice selection of local wines with a real knowledge and offering advice.
Do not hesitate to book by phone at +33 (0)254-787-492 because even at lunchtime, the restaurant is pretty much full!

" I ate in /on the banquettes rouges last summer and will recommend the restaurant. The owners are very friendly (but not pushy), we were made to feel very welcome. The food was very good and the wine list extensive. The patron had good knowledge of the wines in offer and could recommend a good local red that complemented my meal. Pudding was nice too. "
" If someone is searching for a special diner with Nobel-cuisine but payable prices, you have to come here. Don't forget to do a reservation and enjoy a very nice dinner that's also an eye-catcher! "
" We ate here at the recommendation of our hotel staff. We were glad that we had the little town map marked with an "X" because it's not in the busy section of town. [...] We were really trying to stick to the French menu, but when we struggled, they did produce the English version for us. Lovely presentations, menu items that were unusual. "
" Had a fantastic meal here with our three young children...they were presented with the children's menu and I have never seen a 14month old demolish a plate of food so fast. [...] We had a salmon terrine for starter then enjoyed rabbit, beef..all cooked to perfection with innovative touches... All accompanied by local wine 'Cheverny'. Highly recommend. "
" This small bistro in Blois was the best restaurant we ate at in a week long trip to France through Burgundy, the Loire valley and Normandy. We were struck by the combination of a warm, cosy setting with some really modern, innovative yet hearty cooking [...] Fabulous overall, great value for money and totally unexpected in an otherwise bland looking town. "